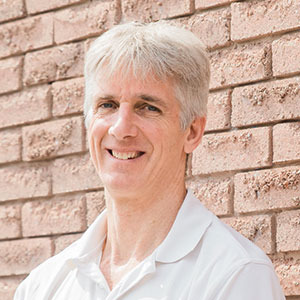 Dr. Peter Veitch, BSc. DC.
Dr. Peter Veitch, BSC, DC was born in Barrie. He attended Shanty Bay Public School and Eastview Secondary School.
In his post secondary studies, Dr. Peter attended Guelph University where he successfully completed his Bachelor Science Degree. Dr. Peter graduated from the Canadian Memorial Chiropractic College (CMCC) in 1990. That same July he joined his father and sister in practice in Barrie.
Dr. Peter has attended many seminars to further his education over the years. He is certified in paraspinal electromyographic scanning including theory, technique and interpretation. Also, he is accomplished in both diversified and torque release chiropractic techniques. Dr. Peter is an avid sport enthusiast participating in a variety of sports including windsurfing, golfing and skiing. He used to play Barrie Minor ice hockey but has since transferred the love of hockey into ball hockey. He has won 2 provincial ball hockey championships and has traveled extensively to play in many tournaments throughout the area. Dr. Peter is the proud father of two sons.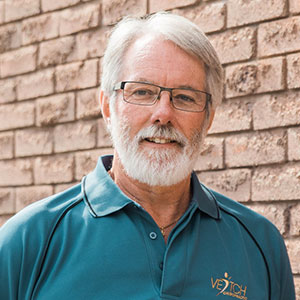 Dr. Jim Veitch, DC.
Dr. Jim Veitch was born and raised in the Barrie area. His father, Dr. J. W. Veitch practised Chiropractic here starting in 1951 until his retirement in 1991. Having had such a close experience with the profession it was only natural for Dr. Jim to enter the field.
Graduating from the Canadian Memorial Chiropractic College in 1981, Dr. Jim entered practice in Barrie with his father in September of that year. There he practised until the opportunity took him north to Sudbury to take over a clinic in that city in July of 1985.
After returning to the Barrie area Dr. Jim opened a practice in the Valley Road Health Center near his home in Horseshoe Valley. In 2008 there was an opportunity to move his practice and share space with his sister and brother, both of whom are Chiropractors.
Dr. Jim focuses on a general type of practice including all ages from newborns to the elderly. He uses very gentle techniques that include Activator and the Pro-Adjuster system. The Pro-Adjuster makes use of the latest technology for assessing and treating the spine eliminating the need to twist the spine for correction or adjustment.