STAY STANDING THIS WINTER!
Falling on ice can leave you red-faced with embarrassment, or far more seriously, hurt badly from taking a knee to the ice or falling awkwardly on icy snow. Slippery sidewalks, driveways and icy parking lots can be risk factors for falls in winter. Avoid a bad fall with these top tips!
Walk like a penguin
The penguin waddle helps you keep a center of gravity over the front leg as you step, instead of split between the legs. Short strides also help keep your center of gravity, which help avoid falls. When walking, extend your arms out from your sides to increase your centre of gravity. Don't keep your hands in your pockets!  Walk slowly, with short strides and try to land your steps with a flat foot.
Keep walkways clear
Shovel snow and scrape ice as soon as possible. Liberally sprinkle ice melt product or sand onto walkways to provide foot traction and to make sure surfaces don't turn to ice. This not only protects you and your family, but also postal carriers and others when they're walking around your property. Where possible install or use handrails for extra support.
Take all precautions
Be extra cautious walking after a storm. Tap your foot on potentially icy areas to see if it is slippery. Hold a railing while walking on icy steps. Stay steady by wearing proper winter footwear. Lightweight boots with a thick, non-slip tread sole will provide good traction on ice. If a sidewalk is icy down the middle, walk on the snow beside it to avoid slips.
Lighten your load
Carry fewer bags on snow days, since excess baggage can throw off your balance and make it tougher to regain your balance once you lose it. Keep your hands free by putting away your phone while walking – you may need to catch yourself!
Boost balance with exercise
You can't control the weather, but you can improve your balance through regular exercise. Exercise is an ideal way to help you stay safely on your feet because it helps improve balance, flexibility and strength. Talk to a chiropractor about ways to improve your balance and strength in order to prevent falls.
Visit your chiropractor
Don't let a fall get you down. If you do take a tumble, visit your chiropractor. They'll get you back to doing the things you love to do and will work with the rest of your care team to help prevent future falls.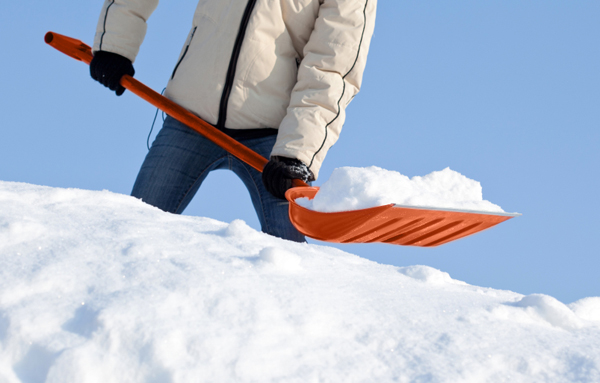 SNOW SHOVELLING
Winter weather can pack a punch and, with the season's heavy snowfalls, injuries often result. Improper snow shovelling is often to blame.
But shovelling out after a storm doesn't have to leave you stiff and sore. With a little know-how, you can clear your
driveway without the all-too-common back, neck and shoulder pain cramping your style. Here's how:
BEFORE YOU START
∞ Drink plenty of water. Dehydration is just as big an
issue in the winter months as it is in the summer.
∞ Dress in several layers so you can remove a layer as
you get warm.
∞ Wear proper footwear. Shoes and boots with solid
treads on the soles can help to minimize the risk of
slips and falls.
∞ Pick the right shovel. Use a lightweight, non-stick,
push-style shovel. A smaller blade will require you
to lift less snow, putting less strain on your body. An
ergonomically correct model (curved handle) will
help prevent injury and fatigue. Also, if you spray the
blade with a silicone-based lubricant, the snow will
slide off more easily.
∞ Before beginning any snow removal, warm up for five
to 10 minutes to get your joints moving and increase
blood circulation. A brisk walk will do it.
____________________
All set to go:
PUSH, DON'T THROW.
Push the snow to one side and avoid throwing it. If you
must throw it, avoid twisting and turning — position
yourself to throw straight at the snow pile.
BEND YOUR KNEES.
Use your knees, leg and arm muscles to do the pushing
and lifting while keeping your back straight.
WATCH FOR ICE.
Be careful on icy walkways and slippery surfaces.
Intermittent thaws and subsequent freezing can lead to
ice building up underfoot, resulting in nasty slips and falls.
Throw down some salt or sand to ensure you have a
good footing.
Once you've mastered safe snow shovelling techniques,
you'll be free to have fun and stay fit all winter.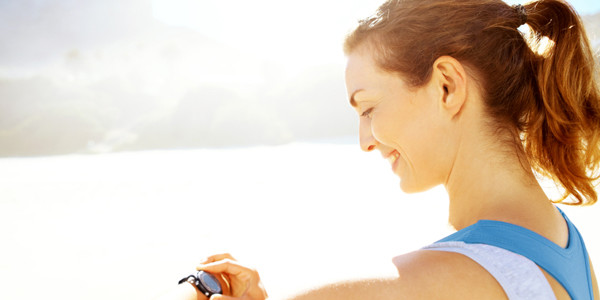 How do you find time for fitness when so many things are competing for your attention? It's a common problem. The good news is that as little as 15 minutes a day can start a fitness habit – and deliver health benefits!
A recently published study conducted over a span of 12 years with almost half a million people found that 15 minutes a day of moderate-intensity exercise increased life expectancy. Every additional 15 minutes of exercise a day further improved the health outlook of the participants in the study.
Try these tips to fit 15 minutes into your day:
Pick a time of day that works for you and stick with that time. Perhaps it is first thing in the morning, during a break at work or in the evening after dinner.  Think of it as a part of your regular daily routine – like showering in the morning or brushing your teeth before bedtime.
Do something you enjoy! People tend to make time for things they like.  A brisk walk outside, a video exer-game, a dance workout to your favourite music, a simple stretch-and-strengthen routine you can do with one eye on your favourite TV program – they all qualify.  Expensive gyms need not apply!
Remember the benefits. We make time for things we know will reward us, and the rewards of physical activity are numerous:  reduced stress, more energy, improved strength and flexibility, and simply feeling good about doing something for yourself.
Fifteen minutes a day can be the beginning of a habit that can grow and help you achieve your fitness goals. You'll feel good about fitting it in, and feeling good is an important factor in your overall health.
Visit www.fitin15.ca for motivational tips, tools and ideas developed by Canada's chiropractors. For even more ideas on how to build physical activity into your day, visit Canada's Physical Activity Guide website at www.publichealth.gc.ca/paguide.

Good posture is easy to neglect, it's hard to keep focused on how to carry ourselves throughout the day.
Much like eating right, exercising and getting a good night's sleep, having great posture can have a positive impact on your life.Many injuries can develop from poor posture. If not corrected, the long term effects of not straightening up your back can negatively affect the body, altering your body structure. An individual who suffers from this often experiences fatigue, achy muscles, strain and pain in lower back and chronic headaches.
You can improve your posture by taking a few moments everyday day to participate in active stretching and engage in strength building exercises. Introducing daily activities into your lifestyle is a simple and effective way to keeping your posture in check.
These stretches and exercises from Straighten Up Canada! can help you get started with your journey to getting good posture!